Commonwalk Mall Walkers Club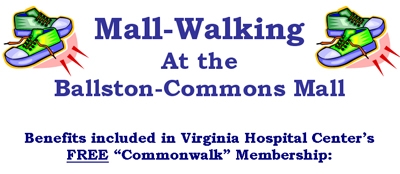 Flexibility and cool down sessions at the end of each session led by Virginia Hospital Center staff
Weekly blood pressure checks
Quarterly lectures on topics of general interest
Monthly Birthday celebrations
Monthly luncheon get-togethers
Holiday party celebration
Lots of new friends and good times!
Walkers meet at the Ballston Common Mall (Ground level/Food Court) every Tuesday and Thursday morning. You can begin walking as early as 8am. Walk as little or as much as you like and at your own pace. There is a cool-down and stretching session indoors at 9:15 am in front of The Uncommon Market Café.

Call (703) 558-6859 for more information.